Guest blog by Alisha Harris, marine biology and oceanography student at University of Plymouth and NMP intern.
After being a sea lover from the minute I could swim, I found a love for diving at the age of nine and from there I knew I wanted a job to do with the sea one day. When the time came to choose which university I wanted to study at, it was a no-brainer to choose Plymouth. People always ask me why Plymouth when it so far from my hometown, but I know I would never want to move back, despite it being on the Norfolk coastline!
I chose marine biology and oceanography at the university, the first year I moved down was 2019/ 202 in the middle of the lockdowns. Everything was online, the only time I would go out would be for my hour walk. It was those short and sweet walks where I would get out to explore Plymouth more. Walking up to Plymouth Hoe and along the Barbican is where I fell in love with Plymouth. I started open water swimming which I wouldn't dream of in the waters at home, trust me it's nicer here!
After a few months of settling in and getting to go out on the boats with the university, I got to see Plymouth from such a beautiful angle. The sea life here is incredible, even just rock pooling you can see some really cool species! Like this guy in the picture below, a cushion star…. And who doesn't love a starfish! We got to look at this guy but we always put them straight back, though if you're not studying them you should let them do their thing where they are. He was found near Devils Point.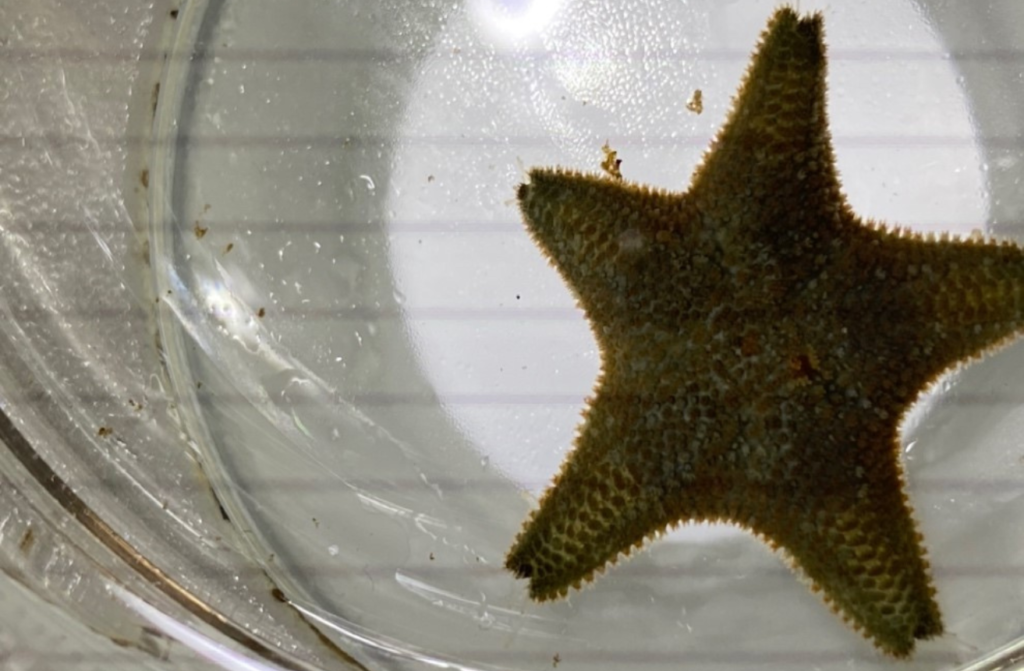 From a boat you get to see Plymouth in a really charming way, especially if it's not raining. You can see how peaceful it is looking towards Jennycliff from Plymouth Sound. Thanks to the projects which are ongoing in the National Marine Park such as seagrass restoration and efforts to protect the wildlife and tranquillity of Plymouth Sound everyone can enjoy it in different ways and for the future. I think my favourite place to go swimming and rock pooling would be Devils Point, mainly because once you've finished you can walk around to Royal William Yard to grab a drink or bite to eat, and look around some of the shops which are within the old and historic buildings.
Another thing I've recently tried and want to continue is paddle boarding although I'm not that good at it yet and still fall in, like you can see in the picture below, it's still so much fun! I'm lucky to be confident in the water and know about water safety and where to find the nearest life-saving devices by the water's edge so it's always good to make sure you do too.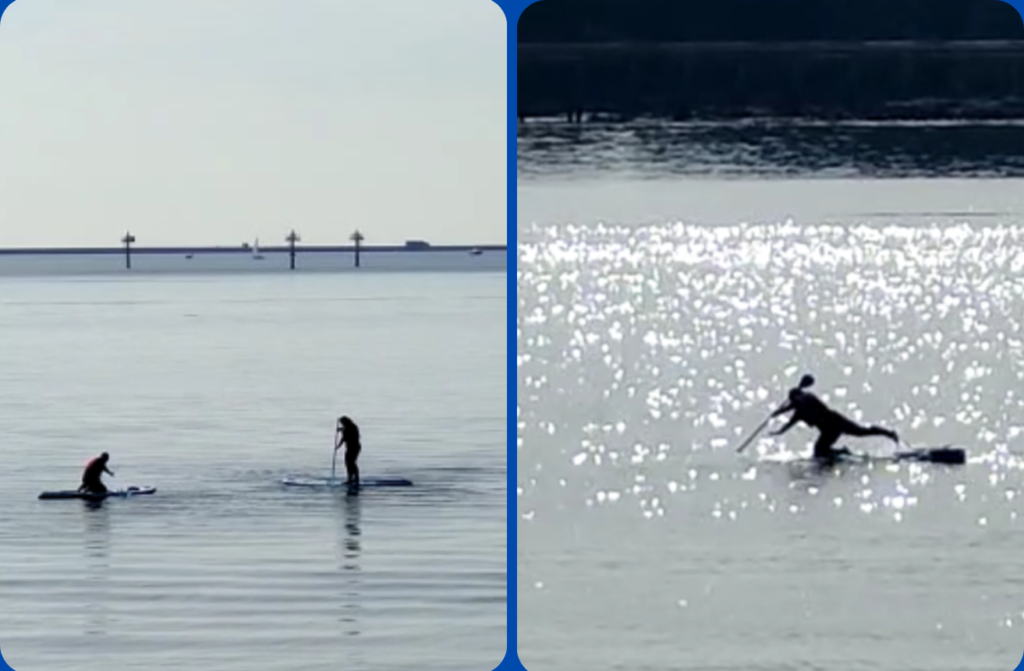 If you're not a fan of swimming or water sports I get that too. Both my boyfriend and mum are not fans of swimming, but they never miss an opportunity to come down to the shore. We sometimes have a walk down to go rock pooling and sometimes just sit down by the sea and watch the boats go by with a barbeque or a lunch. I love going for a walk with them along the Hoe and sitting with an ice cream by the old small harbour at West Hoe. Often you can see people fishing off there, i'm nosey and like to have a chat and see what they've caught, I think that the people of Plymouth are always really friendly and like to have a chat too.
There are plenty of enjoyable walks around Plymouth and you're never too far from the water's edge whether it's from the rivers such as the Tamar or the Plym which run into Plymouth Sound. I enjoy the walks on Dartmoor and there are a few only five minutes out of Plymouth, like this one near Plympton.
Therefore, the reason I would never move back to Norfolk is because of how beautiful just a small area can be even though a busy city is adjoined to it. I feel that the importance of looking after the nature around Plymouth is appreciated and supported by people in Plymouth, and I love the sense of community which it brings. Yes, there are lovely places in Norfolk however I think the community of Plymouth, the beauty, history, and the opportunities in Plymouth are far greater, and that's why I would never go back.