Water Safety
Plymouth Sound is the perfect location to enjoy being out on the water. Whether you'd like to go for a swim or explore the sound by stand up paddle boarding or kayaking, it's very important to stay safe by following some simple guidance.
Top tips to enjoy the water safely
Know the basics of swimming, and always swim within your capabilities.
Bring a friend so you're not alone.
Wear brightly coloured swim cap and use a tow float, and a buoyancy aid and leash during paddle boarding.
Consider wearing a wetsuit.
Be aware of strong tidal currents.
Be aware of where you can swim.
Finally, if in doubt do not go out! It does not matter how prepared or experienced you are, if in doubt do not go out. There is no shame in leaving the water straight away or not going in.
Useful resources for water users
The waters of Plymouth Sound are already home to a complex and diverse mix of uses – from naval and commercial ports to diving and fishing – which work effectively alongside some of the most highly protected areas designated for wildlife in the UK. Through our common endeavours these uses and strong partnerships will be respected and importantly developed further.
Shipping movements and notices
Bathing water quality for Plymouth Hoe East and Plymouth Hoe West
Bathing water sites
There's many swimming spots in Plymouth that are bathing water areas, including Firestone Bay, Bovisand, Kingsand, Cawsand, Tinside W, Tinside E.
Check out the bathing water quality map for more details.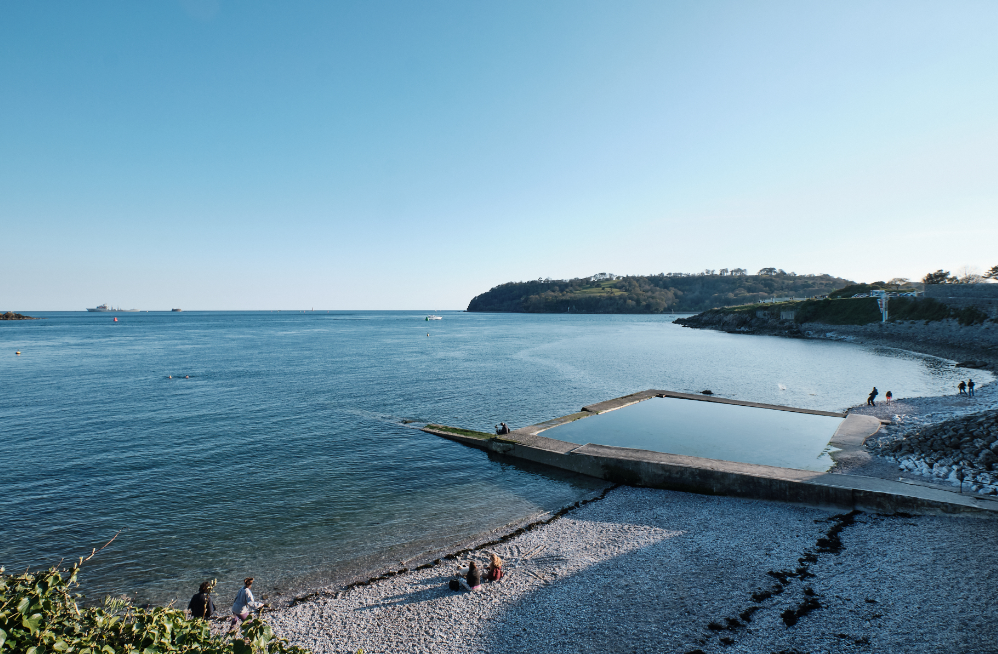 Cold water shock
Cold water shock can occur when your enter in water below 15 degrees. The average temperate of sea water in the UK is just 12 degrees.
Cold water shock causes the blood vessels in the skin to close, which increases the resistance of blood flow along with an increased heart rate. The heart begins to work harder, and can lead to heart attacks, even in the relatively young and healthy.
The sudden cooling of the skin by cold water also causes an involuntary gasp for breath.
All these responses contribute to a feeling of panic, increasing the chance of inhaling water directly into the lungs.
The RNLI recommends these 3 things if you enter the water unexpectedly:
Take a minute. The initial effects of cold water pass in less than a minute so don't try to swim straight away.
Relax and float on your back to catch your breath. Try to get hold of something that will help you float.
Keep calm then call for help or swim for safety if you're able.
For more information on safety in the water, visit rnli.org/safety
The Royal Lifesaving Society has created the water safety code which is vital for everyone to abide by near the water. It's a simple and memorable way of knowing what to do in an emergency and proactive ways to avoid danger. Download below.
RLSS Water Safety Code
"In the past Plymouth launched many great voyages that changed the history of the world. It is my hope that, in the future, people will look back at Plymouth as the ocean innovator that set the standard for National Marine Parks in Britain and across the globe."

Lewis Pugh, UN Patron of the Oceans and Ambassador of Plymouth Sound National Marine Park