February's Ranger Round Up
The Ranger team have been out and about a fair bit in February and with half-term there have been lots of great and different activities taking place. 

Plymstock School Sustainability Workshop
We kicked off the month with the ranger team taking a closer look at plastics pollution and sustainability in the ocean through workshops given to all the Year 9 pupils of Plymstock School. We had some great discussions around the current state of plastic pollution, how it gets from source to sea, how it impacts marine ecosystems and humans, what is being done locally and globally, and what they can do as individuals to help us move towards a more sustainable future.  
They were most shocked by 'snowing plastic' with microplastics being recorded in freshly fallen snow in the Antarctic and that plastic has been detected in human blood! We saw some of the innovative ways that technology (both high and low tech) is being used to clean up our watercourse and the ocean, then, using junk modelling, we got the young people to build their own versions of these ocean clean up devices.  
Torpoint Marine Awareness Day
We had a fantastic day at Torpoint Marine Awareness Day, joining Torpoint Environmental Action (T.E.A.) and AWENEK, a community arts group, to get people thinking about, talking and enjoying all things marine related. 13 of us took to the beach for a litter pick along Marine Drive. A scope was set up to see what seabirds we could spot in the distance, and we also created a beach spotters list for people to look out for which was lots of fun. We headed back to the Torpoint Library that hosts the Wednesday wellness hub where AWENEK had set up some brilliant creative activities for adults and children.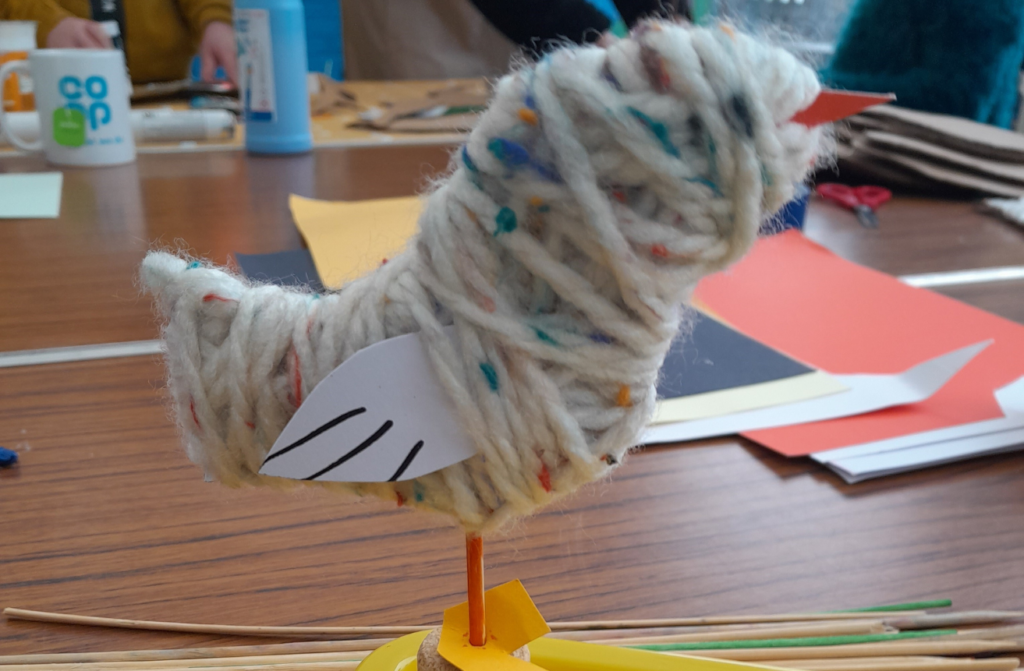 Plymouth Central Library 'Tall Tales' Take-over
Central Library invited us to their 'Tall Tales' session during half term, so Head Ranger Sam got to combine two of his favourite things, books and the marine environment. We talked about some of the sea creatures the kids loved the most from sharks to the sea unicorns (narwhals) with a very knowledgeable bunch as well as what you can find in Plymouth Sound and the things taking place.  
Chatting about the marine park – check! Reading some sea themed stories – check! Colouring, puzzles and poems – check! Engaged children and a happy ranger– double check!
Big Seaweed Search
Ranger Nick revelled in getting to geek out over some seaweed. After having so much fun at the volunteer training session, we also ran a public session of the Marine Conservation Society and Natural History Museum's Big Seaweed Search. This helped people recognise the different macroalgal species on the rocky shore and how to record and report them to help support scientific research.  
Ernesettle Creek Bird Walk
We had another full group of eager bird spotters at our second winter bird walk at Ernesettle Creek. The rain fortunately stayed away for most of the session, but the grey overcast skies made it a little bit more difficult to see things clearly from a distance. There were some great sightings with 14 species of bird being recorded including: Greenshank, Godwit, Little Egret and Kingfisher. There were some quite large flocks of waders and gulls with black-headed gull being the most numerous species. The highlight of the walk was right at the start with a Kingfisher sitting on a perch close to the water of the Mill Pond and diving in and out of the water for a wash and preen. This all took place quite close to the path and everyone got a really great view of this beautiful species. The walk again ended with the Friends Of group volunteers setting up a table with hot drinks and biscuits which gave a chance for everyone to chat about what they had spotted along Ernesettle creek and the NMP. 
Ernesettle Creek Art Walk
The friends of Ernesettle and Budshead wood kindly welcomed our second art session to their beautiful creek, teaching us the rich history of the area and showing us around Budshead Manor. We saw some beautiful architecture, elegant wading birds and stunning views of the creek. The small group of 10 artists were able to capture so many aspects of an area most had never visited before and gave us some amazing feedback. Thank you to Jayne Ashenbury for running the day, The Friends of Ernesettle and Budshead Wood for the local knowledge, supplying refreshments and to everyone who came to a fantastic event. 
If you are interested in joining our upcoming events, they can be found listed under our events page. Please get in touch with any questions through our contact us portal.

NMP Volunteers
Our volunteers had a busy month and have put in over 100 hours of volunteering whilst at events and have undergone some training too!
Training
We trained four members of our community in Level 1 Mental Health Awareness. This training is aimed at encouraging more empathy and understanding to issues around mental health and we have received terrific feedback from those who completed the course. We have also trained our volunteers on how to run a Big Seaweed Search community science survey. We measured the presence and abundance of certain intertidal seaweed species, these species can tell us the impact of ocean acidification, sea temperature rise and invasive species on Plymouth Sound. We will continue to do these surveys over the next few months to see if we can produce a longer-term dataset. 
Events

The volunteers undertook some tree planting and bramble removal on the grade 1 listed landscape of Mount Edgcumbe, it was a fantastic and beautiful day out doing heritage restoration. We had a great afternoon as part of the University of Plymouth's volunteer fair, talking to students with all sorts of interests who were keen to join the NMP volunteer team.  

The ever-engaging Paul Naylor, author of Great British Marine Animals, came to talk to us at our first ever social event to showcase 'The Amazing Animals of Plymouth Sound National Marine Park'. We learned how some of the most common animals in our seas can be the most interesting, from fish who change gender to the colourful killer nudibranchs.
Our growing community of NMP enthusiasts are a real asset to the team, so thank you to everyone involved! If anyone if interested in finding out more, please contact Nick our volunteer co-ordinator at Nick.Helm@plymouth.gov.uk