Guest Blog by PSNMP micro interns Alfie Davis, Ningrum Farmer and Phoebe Marshman from University of Plymouth.
It's the time of the year again! Christmas; when friends and families get together and celebrate the festive season. We love to decorate our homes, eat great food and treat our loved ones to a special present or two, however that doesn't come without its trials and tribulations when it comes to sustainability for our natural environments, most importantly to us of course, our big blue park.
When it comes to decorating our homes, houses traditionally are adorned with tinsel, baubles, wreaths and other ornaments, with people buying new decorations to replace damaged and tattered ones. But many of these are made from non-sustainable materials such as plastic and can't be recycled, eventually ending up in landfill.
One of our suggestions is replacing tinsel with orange garlands. Orange garlands are a beautiful homemade decoration that can leave your home smelling all cosy and warm. All you need to do is slice some oranges up and place on a baking tray at 140°/120° fan oven for 2 hours. Then thread the orange slices on some twine and wrap them on your tree, or hang around your home as a sweet-smelling decoration. Pinecones found on your wintery walks can also be used to add a more natural feel.
These garlands are all made from natural materials which can be given back to the environment, for instance by putting them in compost. For the crochet garland, this can be used year upon year and could even become a year-round decoration in your home.
Who doesn't love a wreath so why not have a go at making one yourself? Find some flexible branches on your wintery walks to create the base of the wreath. But if you are unable to find any you can buy a base made from willow or even reuse an old base. Then cut a few branches from your Christmas tree and layer them up and attach with wire to the base. As a tradition you could go on a family walk to go foraging in your local environment for some natural elements such as: pinecones, twigs, holly, bay laurel and rosehips. Add them to your wreath but make sure to not add glitter as this can be very harmful for the environment.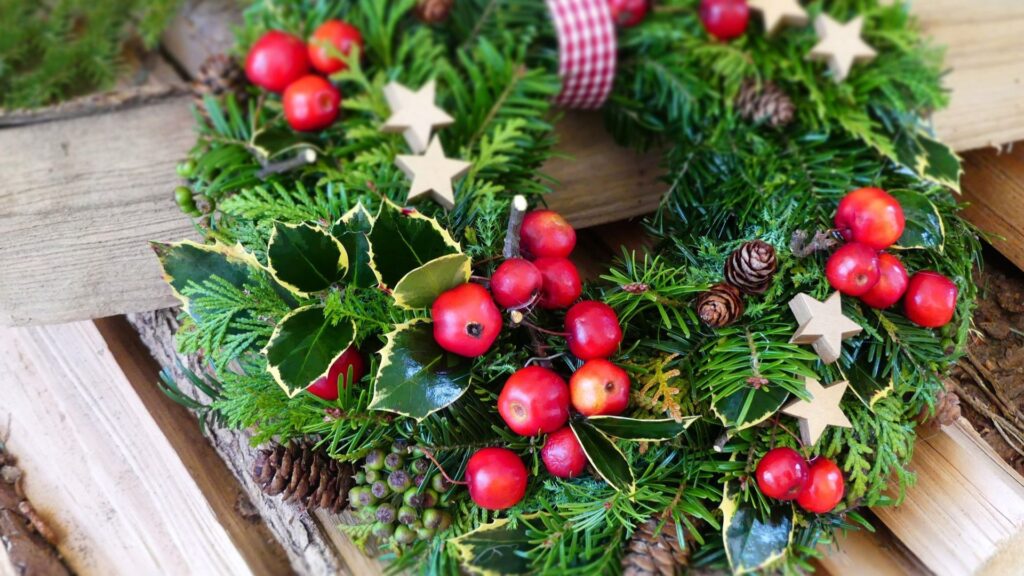 Onto the topic of gifts. A lot of the sparkly and shiny wrapping paper and tags have been dyed and laminated and then decorated with glitter. Presents are wrapped using sellotapes, which are made using a variety of plastic called polypropylene. These materials and decorative touches, whilst festive and convenient, are not recyclable and can often find their way into the sea contaminating the water with micro plastics that are ingested by various marine creatures. Did you know, globally, excess waste increases by 30% as a result of Christmas packaging, wrapping papers, and cards in the winter season.
Here are a few ways to make your seasonal gifts more sustainable:
Get creative with your wrapping and use different materials! You can use old newspapers and magazines, spare fabrics or cut up clothing that you can't donate but repurpose. You could even design your own by buying plain brown paper, festive stamps and ink.
Reuse boxes, instead of buying boxes for present, you can use those from deliveries, old shoe boxes and other items. Just get rid of any labels and you can design a gift box in your own style.
Swap shiny bows for festive foliage? Even though bows and ribbons make a gift pretty, traditional bows and ribbons are made from polyester or nylon. A creative solution is to use paper ribbon, string or twine and decorate it with a flower, leaves and other foliage.
Make your own Christmas card, why buy a card, when a hand made one is unique, easy to do and a fun activity with family and friends.
Send an ecard, when you're far from home or don't want to buy Christmas cards during the season, you can send holiday cards to your family digitally.
Re-gift! Instead of going on an endless Christmas shopping spree, have a look at what you already have. Everyone has that gift they were given, thing that they bought or even book that they will never read. Give it to someone else you will love it.
Alternative presents? Give the gift of food, what better way to celebrate than having a sharing a meal with the ones you love. Cook them a meal, treat them to dinner or make some tasty goodies. Give a homemade gift, make a donation in their name to their favourite charity or buy them an experience or lesson. You could even offset someone's carbon emissions! There are lots of things you could do to be a little different.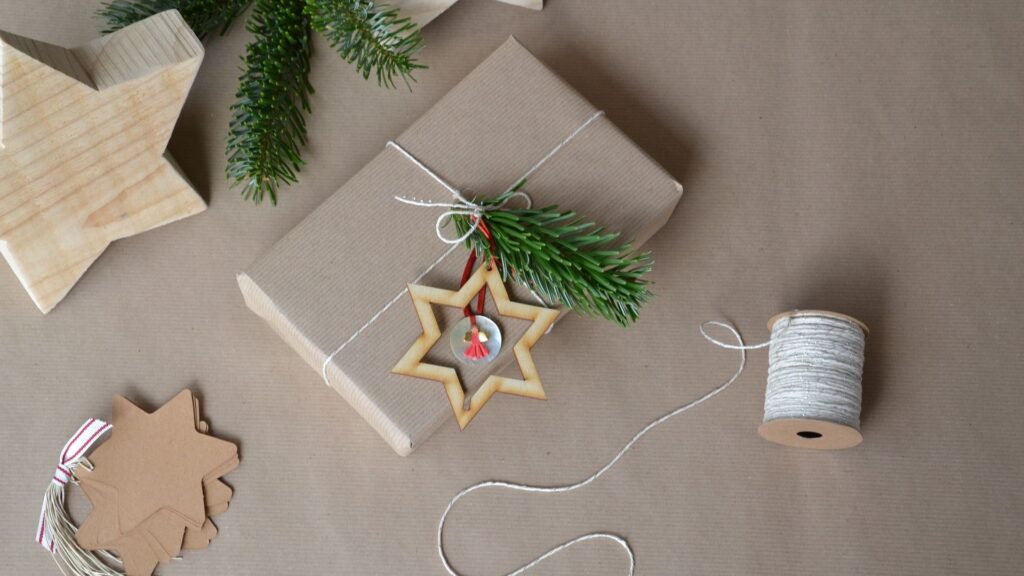 Cutting down food waste can sometimes be tricky. During the festive season we generate around 15x more waste than any other annual celebration! In a time of environmental crisis, it has never been more important to protect and conserve our limited resources. We have 3 ways you can enjoy a more sustainable Christmas feast.
Cut down on the meat! Meats like turkey, beef, pork, and lamb have huge environmental impacts, consuming vast quantities of water, land, and generating more carbon than plant-based foods. Try swapping meat for some more tasty veggies on your plate or opt for alternatives such as a nut roast to reduce your carbon and water footprints!
Save your leftovers! Uneaten turkey, veggies, bubble and squeak, and other festive favourite end up in the bin all throughout the season. For an environmentally and financially friendly holiday period, make sure you save any leftovers from your meals for other dishes, like soups and sandwiches at lunch the following days… You'll be surprised how far they'll go! And make sure to only buy what you'll definitely eat!
Embrace the winter veg! Sticking to seasonal vegetables like carrots, potatoes, Brussels sprouts, leeks and cranberries are all better for the environment. Bonus points for buying local and British produce as it'll reduce the number of miles they'll travel from the farm to your plate, emitting much less carbon than other foods imported from across the globe!
From the NMP, we hope you enjoy the winter season and these suggestions inspire you to make your Christmas more sustainable. Share with us your sustainable choices this year on Instagram and Facebook.