Wondering where is best to view Plymouth Sound, the UK's first National Marine Park? Here in Plymouth and the surrounding areas there are a variety of beauty spots where you can visit to check out the immense beauty of the sea. Here are some of our favourites.
Plymouth Hoe:
Stroll along the pathways at Plymouth Hoe and have the Sound by your side. The area of high ground boasts panoramic views of the sound. From here you can take one of the many routes down to the water's edge to where you can take a dip in the sea.
Smeaton's Tower:
Ascend the iconic 17th-century lighthouse perched upon Plymouth Hoe to see unrivalled views of Plymouth Sound from above.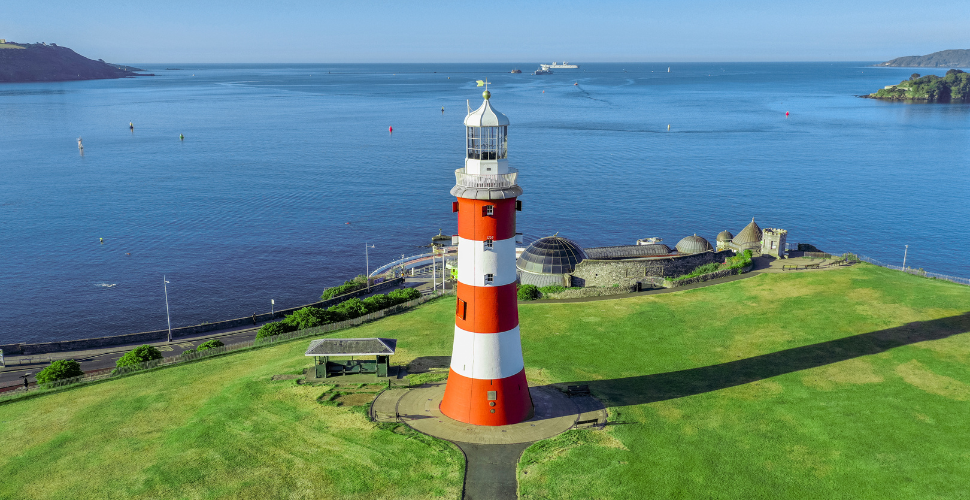 Mount Batten Pier:
Cross the Sound to Mount Batten. A short ferry ride from the Barbican takes you to this tranquil haven. From here, Plymouth's waterfront sprawls before you, inviting you to soak in the serenity of the Sound from a different shore.
Cawsand Hill:
If you're up for a little adventure, a hike up Cawsand Hill promises panoramic pleasures. Gaze out over the Sound and the coastline, savouring the rewards of your ascent.
Jennycliff:
Head east to Jennycliff and take in Plymouth Sound from a different angle. From here you can see across across to Plymouth Hoe but also to the villages of Kingsand and Cawsand in east Cornwall as well as the striking Fort Picklecombe and the aesthetic Mount Edgcumbe Country Park.
Devil's Point:
From Devil's Point, you'll have an unobstructed view of Plymouth Sound itself. The area is a prime position to witness both sunrise and sunset over the water. It's a great place to view naval vessels which frequently sail in and out of Devonport Dockyard, as well as offering fantastic views of Mount Edgcumbe and Drake's Island.
Mount Edgcumbe:
Take a trip across to Mount Edgcumbe and explore the acres of Mount Edgcumbe's country park. From here you can gaze upon The Sound from one of the park's few pebbly beaches, alternatively, head up the hill and you can view the beautiful sea from above.
Mount Wise Park:
A hidden gem to many of Plymouth, scale Mount Wise Park and you are welcomed with stunning views out to sea. With the Royal William Yard ahead, and Mount Edgcumbe on your right park offers an alternative view of The Sound from its 360-degree viewing platform.
On the water:
Lastly, what better place to check out The Sound than by immersing yourself in it? There are many ways you can enjoy the waves in the National Marine Park with areas designated for swimming including the floating pontoon as well as the opportunity to paddleboard across the water.
However, be sure to make sure you are safe at all times on the water. For an extensive guide to safety in The Sound, check out our guide.