March was a big month for the National Marine Park rangers, here's Kate and Nick sharing their round up for the month.
What a weekend we had as part of the National Lottery Open Weekend 2023!
On the 18 and 19 March our partners at the Ocean Conservation Trust hosted the NMP Open Weekend at the National Marine Aquarium where we welcomed thousands of people exploring the wonders that Plymouth Sound NMP has to offer sparking that connection to the sea that we hope will continue to grow. It also provided a us chance to celebrate everything we had done over the past year and for people to give their feedback on some of the ideas and changes we have in store. We were also able to identify if we have missed anything and what types of things, and what people would most like to see that will help them to better engage with blue spaces around Britain's Ocean City.
A total of 5236 people visited over the 2 days, and in addition to the usual exciting exhibits and workshops at the aquarium there were lots of stands and activities from wonderful organisations and groups around the NMP. Roughly half of the tickets were offered to 155 different community groups that we have had the pleasure of working with, including community builders, BAME communities, people with disabilities, young carers and Foster families. The rest of the tickets were snapped up in record time when they went public. From sea creature face paints, making treasure maps, ocean art, and sea seed bombs to historic maritime artifacts, paddleboard simulation, and underwater virtual reality there was something for everyone.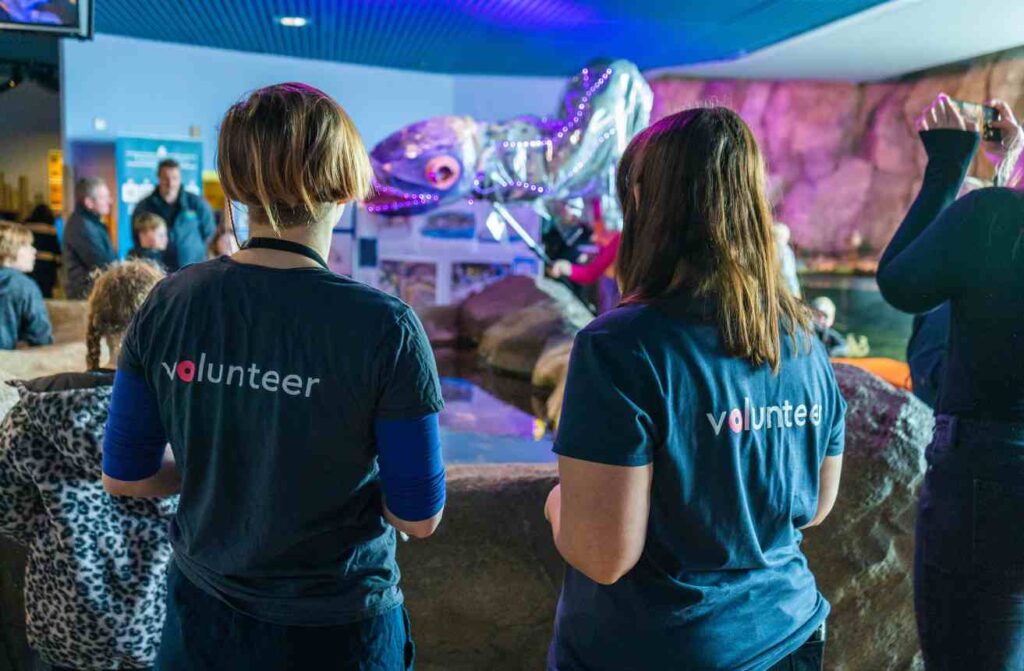 It was a crazy tiring weekend, and we all had a well-earned rest afterwards, but no one can deny the awesome atmosphere that was created over the weekend. We had a great time, especially thanks to the amazing team at the NMA. And we would do it all over again (just not for a little while).
Around the NMP this month the rangers have carried out a host of activities. We had another one of our art sessions with Jayne Ashenbury Art, and this time we met at the Mount Wise Observation Tower for a 'family' art session allowing younger children to take part. If you have never been up to the top of the Tower, I would highly recommend it. There are fantastic views out over Plymouth Sound towards Royal William Yard and Drake's Island, and over to Cornwall and Mount Edgcumbe. Alas the rather blustery conditions made painting and drawing difficult, so we had to abandon our post to a slightly more sheltered spot around the side of the tower. There was some great art produced with vibrant Anilinky paints.
We had another session of The Big Seaweed Search, which found curious seaweed fans helping gather data to support the Marine Conservation Society and Natural Heritage Museum citizen science campaign. To find out a bit more about seaweeds in general, keep your eyes peeled for other chances to join.
Elsewhere, Nick and I also joined the RNLI Southwest Education Manager, Tim, at Junior Life Skills hosted at the Liskeard Fire Station in preparation for our upcoming collaborative water safety school assemblies. We helped deliver a quick-fire version of their 'Meet the Lifeguard' programme as the children moved around each group to learn about rail safety, resuscitation techniques, road and cycle safety and fire safety.
Volunteering programme
During April, our excellent volunteers have clocked nearly 300 hours, engaging with people and the Sound through events. I just want to say thank you to all 84 of our Coastal Ranger Volunteers, who embody our values around inclusion and fun with our local environment. It has been an amazing month of activities for the team!
Our NMP Open Weekend at the National Marine Aquarium was fantastic and we had 22 volunteers on hand to help, all of whom are now experts in making origami fish, although some were more proficient than others. We also had some great days maintaining and restoring the Mount Edgcumbe Manor grounds and gardens. From bracken bashing, to flower bed and path maintenance, a day in that Grade 1 listed landscape never fails to be fun (even in the rain!)
Do you love the history and heritage of Plymouth Sound and the city? Then we would love to welcome your knowledge and enthusiasm to our awesome community of volunteers. From helping maintain the stunning grounds at Mount Edgcumbe to telling people about the fascinating history of Mount Batten and the Tower; we have lots of activities on the horizon and need people who are passionate about history to share it with a new audience.
Our growing community of NMP enthusiasts are a real asset to the team, so thank you to everyone involved! If anyone if interested in finding out more, please contact Nick our volunteer co-ordinator at Nick.Helm@plymouth.gov.uk