Plymouth has five new Ocean Heroes
Whittled down from 113 nominations, the five marine-marvels have been recognised for the amazing difference they have made in making Britain's Ocean City a better place for everyone to live, work and play.
The fantastic five have all contributed to the well-being of those who use the coastline and its environment as well as encouraging more people to take the plunge and enjoy the benefits of being in, around and under Plymouth Sound National Marine Park.
Pauline Barker, Emily Bryant and Dotty, Douglas Kerr, Mila Thompson and John Hepburn will be presented with their Ocean Hero Award by UN Patron of the Oceans, Lewis Pugh, on Saturday 30 July at SailGP's Blue Green Village on the Hoe.
The competition to nominate the heroes was launched by Plymouth Sound National Marine Park on World Oceans Day in a bid to highlight those who have done the most to care about and make a positive difference to the coastal waters and its community.
Each hero has won two tickets to a SailGP Tech Tour, a meet and greet with the GBR team and a special goodie bag from Plymouth Sound National Marine Park partners.
Elaine Hayes, Interim Chief Executive of Plymouth Sound National Marine Park said: "The number of people from Plymouth we have heard from has been incredible and has made deciding the awards almost impossible with so many amazing people contributing so much, and all of this here in Plymouth Sound National Marine Park.
We have chosen these impressive individuals who have all given their time and energy to make our city a better place, but every one of the people nominated is a winner and I am humbled by their passion and commitment."
Councillor Pat Patel, Cabinet Member for Customer Services, Leisure and Sport said: "It's heart-warming to hear of what these extraordinary people have achieved and the positive effect their local community have had from their actions. I hope everyone will be inspired by our Ocean Heroes to go on and do their bit in making our Marine Park a more inclusive, cleaner and safer experience for everyone who uses it."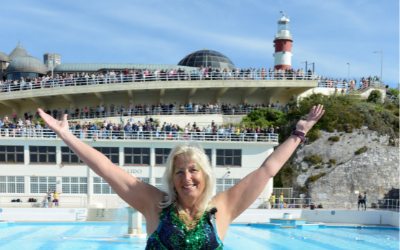 Health and Wellbeing Ocean Hero – Pauline Barker
Pauline is the founder of Devon and Cornwall Wild Swimming and has encouraged countless people to take the plunge and enjoy the benefits of swimming outside – both in the winter with the Polar Bear and Penguin Ice Swimming Challenges – as well as during warmer weather. Pauline, who has herself competed in cold water swimming at an international level, arranges regular swimming sessions as well as social and fun events for the growing wild water swimming community. She was nominated for her tireless work in getting more people into the water – which recently included the world record-breaking gathering of Merfolk at Tinside Lido.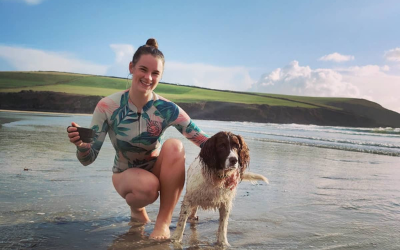 Environment Action – Emily Bryant and Dotty the Dog
Emily and Dotty became environmental champions thanks to Emily's New Year's Resolution in 2020. She vowed to take a wild swim in the ocean every single day for the next twelve months. The teacher, and her faithful canine companion, successfully took the plunge through storms, illness and cold winter days inspiring not only her own reception class but hundreds of people from all generations and achieved her goal. She raised £1,000 for Surfers Against Sewage as well as raising awareness of environmental issues and encouraging more people to take the plunge and enjoy the benefits of being in the water.
Culture Heritage and Tourism – Douglas Kerr
Douglas has been the driving force behind building up the Plymouth Cruise Ambassadors to ensure seafaring visitors to Britain's Ocean City get a warm welcome. His passion for the city and his font of invaluable information makes sure that the giant cruise ships and their passengers return year after year.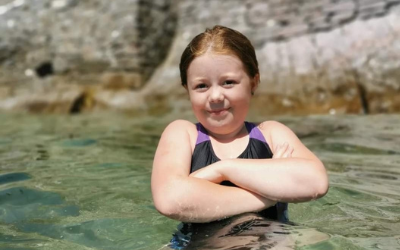 Young Ocean Hero – Mila Thompson
10-year-old Mila Thompson wanted to make a difference and make Firestone Bay a safer place for her community to visit and enjoy. So, she rolled up her sleeves and headed for the kitchen. She baked 50 fairy cakes a week and through sales to hungry swimmers, paddleboarders, beach visitors and support from the police and fire service, her bake sales eventually raised enough money to buy a beach defibrillator.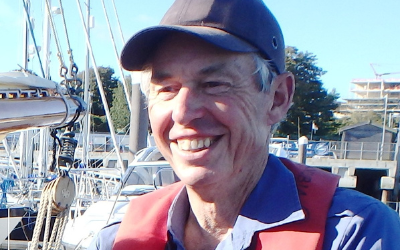 Community Ocean Hero – John Hepburn
John's belief that everyone should be able to get out on the water is the driving force behind his work, carried out mostly as a volunteer. He fundraises and enables disadvantaged young people to experience life-changing sailing activities and increases awareness and champions the understanding of the marine environment and conservation in numerous groups and societies. As well as sailing with The Island Trust, he gives maritime awareness talks in schools, is a volunteer rockpool guide and snorkel leader at Wembury, and won the Marine Conservation Society annual award in 2016.
Plymouth Sound National Marine Park is the UK's first 'Park in the Sea'. It aims to react positively to climate change and offer better access and engagement with the natural and maritime environment. This will make sure that everyone can enjoy the benefits of being on, in, under or next to the sea can bring. Getting more people involved in the ocean and the natural environment will help improve their health, well-being and resilience as well as boosting sustainability, ocean protection and the blue economy.
During 2022 the Plymouth Sound National Marine Park Horizons project is delivering a series of engagement activities, programmes and events, made possible thanks to money raised by National Lottery players with £9.5million of funding from The National Lottery Heritage Fund.