Loving Limpets – A Very Special Blue Recovery Community Talk
29th September 2022
@
6:30 pm
–
8:15 pm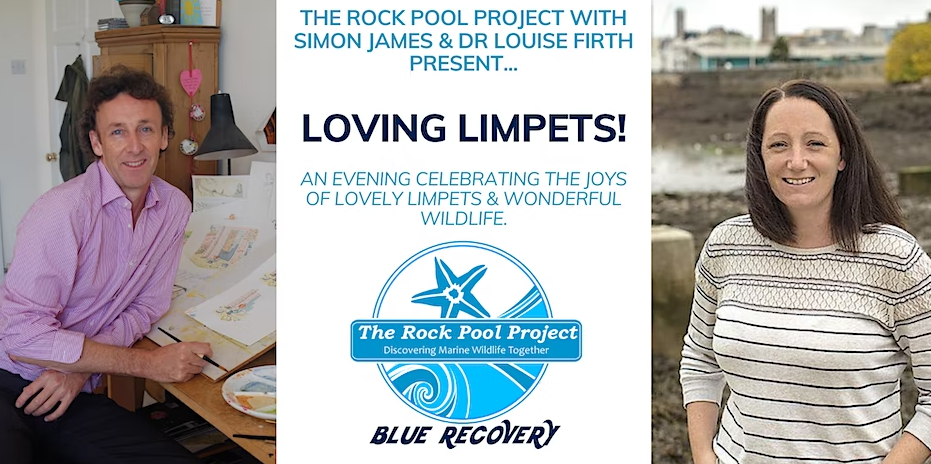 Very special guests, children's author & illustrator Simon James & marine ecologist Dr Louise Firth share their love of limpets & wildlife!
As part of The Rock Pool Project's two year Blue Recover Project, funded by The National Lottery Heritage Fund, we are delighted to host a wonderful evening of wildlife discussion & fascinating tales.
The Blue Recovery Project connects local people to their local coastline and marine wildlife – a vital, age-old connection that was strong historically but has declined worryingly over recent decades.
Simon James, award winning author and illustrator of several children's books, including Dear Greenpeace, Baby Brains & REX speaks about his astonishing book, Sally & The Limpet, how nature inspires so much of his work and shares many of his captivating illustrations.
Dr Louise Firth, Associate Professor of Marine Ecology at Plymouth University presents some of her research, reinforcing the fact that limpets have long been important to humans as food, cultural symbols, offerings in religious and spiritual rituals, and even currency.
As if this wasn't enough, winning entrants from our recent Limpet Limerick competition will be read and prizes presented.
This is a night to celebrate the astonishing wildlife and people of The UK's only National Marine Park, Plymouth Sound.
Engaging, inspiring and educating individuals & communities about marine wildlife not only brings significant health & wellbeing benefits to us all, but the more we learn, enjoy and become impassioned about nature & the environment, the better care we shall take of it.
This is a night unlike any other – important, fun, fascinating. Grab your tickets whilst you can!
Related Events