Guest blog by Elizabeth Browning, Marine Biology and Coastal Ecology graduate from the University of Plymouth.
Having visited the Southwest each year with family, and a want to improve and understand marine life, I decided to move to Plymouth to study at the University. I arrived in September 2019, and the weather was still warm, as was the sea. Immediately I found being by Plymouth Sound to be a comfort spot for me and my new friends. Our favourite spots are the steps down to the sea by Tinside Lido, the small harbour by Grand Parade, and Firestone Bay by the sea pool. My friends and I go for a swim most days of the week, we're able to do this without a wetsuit during warmer months. This was and still is an incredibly fun and social activity for us and doesn't cost a penny. The exhilaration of slowly entering cold water, and the free feeling of being able to swim out into the ocean with no pool walls cannot be beaten. Wild swimming, especially in the sea, has a way of making your once significant problems seem insignificant.
When the end of October comes, the sea temperature decreases, so for me a wetsuit is helpful. There are often wetsuits sold second-hand in Plymouth, and online outlets from surf shops often sell cheaper suits. Swimming in the sea is still very enjoyable despite the colder temperatures, and having a warm drink afterwards while looking out to sea is very rewarding. I find the cold water sinks into my mind and completely relaxes me. If I'm feeling brave, I'll swim without a wetsuit during colder months, which I am slowly getting better at. However, as thrilling as this is, I prefer to have a longer time swimming, and precaution must be taken whenever cold-water swimming, such as having a swimming partner or a spotter and ensuring I can quickly warm up after.
The Hoe foreshore is a very popular swimming spot, and I have met and taken many new friends there. During summer months, the Hoe foreshore is brimming with young people listening to music, socialising, swimming and jumping into the sea. This has a very fun and social vibe, which often extends into West Hoe Park with lots of people having picnics and playing ball games. Pontoons are placed in the sea for swimmers to use during warmer months also. We can swim out to these, rest on them, jump off and chat. This popular swimming spot has a secured locker to leave valuables if you bring your own lock, and is visible while swimming, so you don't have to worry about your items.
The small harbour near West Hoe Park has an elevated walkway with stairs, which is a great entrance into the sea for divers and for swimmers. When the tide is high and after inspecting the seafloor is deep enough that it is safe, my friends and I use the platform to jump off, which is very fun.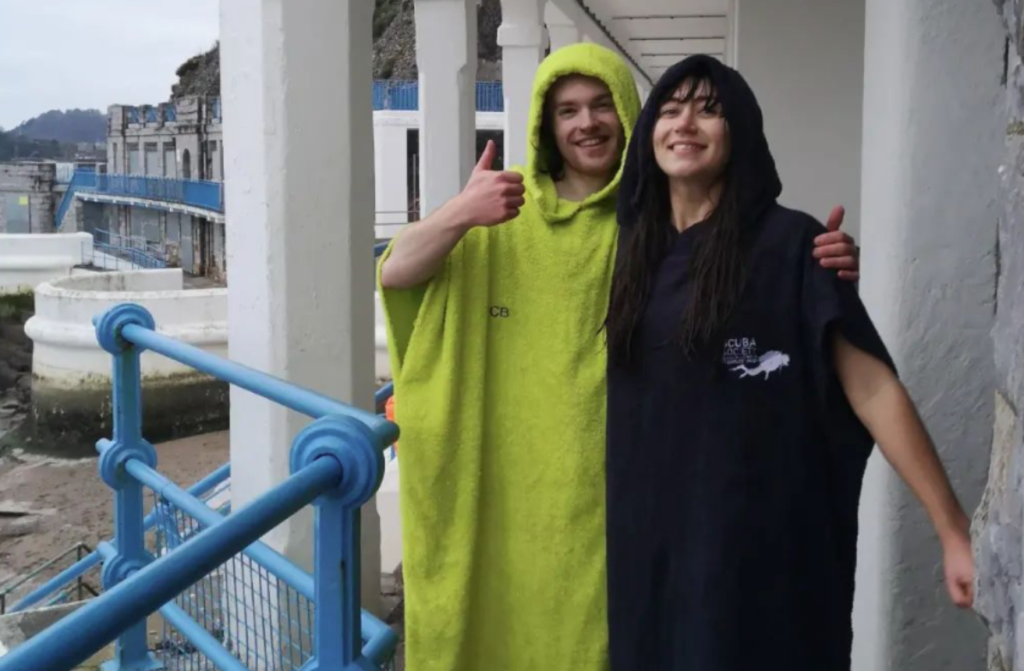 Firestone Bay is a beautiful small pebble beach with views of Drake's Island. This is an access point for many swimmers and water sports such as paddleboards and kayaks. There is also a small sea pool for those learning to swim who may not be comfortable going into the sea quite yet. There is a beautiful walk around Royal William Yard and Devils Point near the bay, all with gorgeous views of the sea and the green nature of Cremyll.
During my time at University, I was lucky enough to test out several water sports, run by the University. This included paddleboarding, kayaking, and windsurfing each conducted at Mount Batten Watersports and Activities Centre. Each sport I found very fun, and I appreciated the opportunity to try each one free of charge before committing. Plymouth often has activities advertised on 'Visit Plymouth' such as events at the National Marine Aquarium, large-scale events like Pirate weekend and local music festivals, and activities for young children. I frequently visit this web page and read the local newspaper, the Plymouth Chronicle, to know what events are running.
Wild swimming is an excellent activity for your mental health as well as general fitness, a great social activity, and is free and nearby. As well as an enjoyable, free space for everyone living and visiting Plymouth to enjoy, the sound provides a protected marine area for important habitats such as kelp forests and seagrass beds, and for marine animals.
Practicing safe, wild, and especially cold-water swimming is very important. Having a bright coloured tow float is a good way to be seen, and an extra aid and having someone with you is well advised. For more safety tips on wild swimming, you can visit the RNLI's website. I am always so grateful to have the sea on my doorstep, and so many activities to do locally, and I encourage everyone to join in these activities and connect with the sea!